Why Highland Hollow?
Because we're passionate about what we do... and what we eat.
QUALITY
At Highland Hollow, our goal is simple: produce the highest-quality meat products you can buy anywhere… at any price. That's a lofty goal, but we'll let our results speak for themselves.
HERITAGE
Most commercial meat comes from breeds chosen because they are easy to raise in large quantities. We choose heritage breeds because the meat just tastes better… and we think that's worth a little extra work.
CONSISTENCY
Industrial-scale farming can't afford the time and effort to provide individualized care. Our animals are raised and processed only one way: the RIGHT way. This simple approach yields consistently superior results.
LOYALTY
We are committed to forging long-term, personal relationships with each of our customers. We believe that if we provide you with high-quality products and treat you fairly, we'll have a customer for life.
About Us
Meet your neighborhood farmers.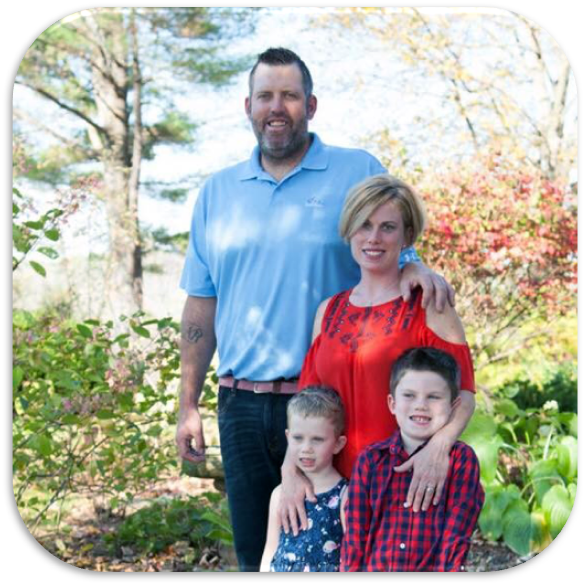 Highland Hollow is not some huge commercial meat factory… we're your next-door neighbor family farmers. We're the Raylinsky family, and farming is our passion.
We come from a long, proud lineage of real working farmers and butchers. Dave Jr. is a fourth-generation farmer and third-generation butcher. He's learned his craft, as well as a number of trade secrets, from his farming parents, Dave Sr. and Kim. Benaye is a mom to farmers-in-training Oscar and Olive, plus the farm manager and animal midwife.
Together, we followed our dream, took the plunge, and founded Highland Hollow. We built our farm and our business from the ground up with blood, sweat, and tears. We began on the site of a historic 1788 stone farmhouse in Feura Bush, NY. When we outgrew that location, we moved to a beautiful 102 acre farm in the Schoharie valley in March 2016. Since then, we have expanded to 519 acres.
Our philosophy is simple: we want to feed you the same way we feed our own family. Our animals are raised organically and naturally with care and respect. We treasure our heritage breeds and proudly carry on the traditions of farmers and butchers that preceded us. We work tirelessly to ensure that each and every piece of meat you purchase from Highland Hollow will be the best you've eaten.
All of our beef is grass-raised/grain-finished and dry aged for 21 days. We don't HAVE to do that, and it's more work for us, but we do it anyway... because the result just tastes better.
Our farm is filled with cows, chickens, pigs, and ducks – roaming free around the pastures of our home and farm in Upstate New York. You'll need a map to find us – but that seclusion gives us rolling hills of pure green grass and clear ponds on which our animals live and feed every day.
We are proud of our farm and love to share it with you... stop by and say hello!
Our Livestock
When you want the best meat, start with the best animals.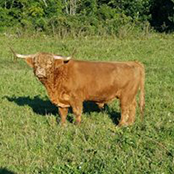 Highland Cattle
A Scottish cattle breed, Highland cattle are prized for their rich, tender, flavorful meat that is naturally lower in cholesterol and higher in Omega 3, Omega 6, and CLAs than other beef varieties. Highlands are kept at Balmoral Castle to feed the Royal Family of England.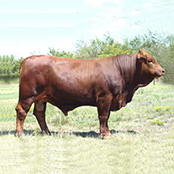 Beefmaster cattle
Beefmaster cattle are the first American composite breed (50% Brahman, 25% Hereford, and 25% Milking Shorthorn). A large breed, Beefmasters are praised for their hardiness, fertility, and mild disposition. We are proud to own the only herd of Beefmaster cattle north of Kentucky.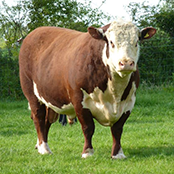 Hereford Cattle
Hereford cattle originated in Herefordshire, England and are one of the most popular cattle for beef production worldwide. This hardy breed has a reputation for being great mothers to their calves. They produce rich-tasting beef with a yellow fat cover.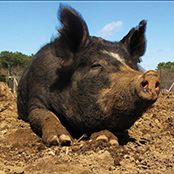 Berkshire Pigs
Berkshire pigs (known as Kurobuta pigs in Japan) are considered "the Kobe of pork" due to the superior marbleization of their meat, making it particularly suitable for long or high-temperature cooking. Our pigs are registered and can be traced directly to established English herds.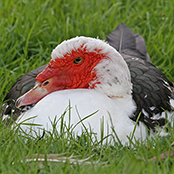 Muscovy Ducks
Native to Central and South America, Muscovy ducks are now domesticated throughout North America. Popular in Europe, they are large ducks with rich-tasting meat that is thin-skinned, deep red, low in fat, and very tender.
HH on Facebook
The latest news from our farm.
Saturday and Sunday Cookout Special! 𝗦𝘂𝗺𝗺𝗲𝗿 𝗕𝗲𝗲𝗳 𝗕𝗿𝗼𝗰𝗵𝗲𝘁𝘁𝗲𝘀 (Gluten Free) Denver steak beef kabobs, from Highland Hollow , in Schoharie NY, smoked over applewood in
Highland Hollow offers:
individually-packaged cuts
partial and full animals, butchered to order
custom butchering of beef, pork, and lamb that you provide
over a dozen heirloom sausages, with natural casings and fresh herbs and spices
All butchering, aging, and smoking is done on premises, and all meat is cryovac-packed